It Was Twenty Years Ago Cliche
My mom is so well trained. I called her when the rumors of
Phish's 20th Anniversary run first started. I didn't even try to make
what I was doing sound any better to her. "There's a chance that Phish
will be playing in the northeast after Thanksgiving. If they do, I'll
visit you." You might think that she wouldn't be exactly happy with
that announcement. My trip home for Thanksgiving was completely
dependant on the plans of a rock band. After some fifteen years
though, she's used to this. Getting a visit for any reason is good at
this point.
As I'm sure everyone knows by now, Phish did indeed decide to play the
run and therefore I did find myself home for the holiday. It was
fun, but towards the end of the evening I found myself getting bored.
It was then that I decided to try something.
I had a good friend in high school named Steve. Despite the fact
that we had near opposite sleep schedules – I was waking up around the
time he was going to bed – we would have incredibly long and
complicated conversations about the issues of the day as seen through
the filter of (say) the existence of fruit and juice bars. One time
when he was at my house, he casually mentioned a trick to remember the
last four digits of his phone number. For some reason that stuck in
my head, and I decided to look up everyone in the phone book with his
last name, hoping to find a match with the last four digits. There
was one.
I dialed the phone, hoping for nothing more than a contact address.
When I got his mother and asked if she had any information about him,
she didn't really have the most updated information. She gave the
phone to Steve so he could give it to me himself. Well that worked
better than I thought.
It was weird talking with him again. Despite a decade absence, we
immediately fell into the same patterns of debate. He's still one
of the best people at calling me on my crap when I get too out there
on one of my obsessions. I then asked him where he was living.
"That's a long story." I didn't actually get said long story, but I
was fascinated at the answer anyway. You know your life is taking a
unique route if you can't easily answer where you're living,
especially if you're already in your thirties.
I've been in touch with a couple of my friends from Park School now,
and we all seem to have managed an unusual path through life. I'm
still obsessively following a rock band around the country. Another is
splitting her life between two different countries. It's one thing
to have unusual ideas and a different way of living when you're in
your teens and there's no consequences. Continuing to do so well
into your life is a lot harder. "I'm falling behind in some races
that I pretend to not care about," Steve said. That's the constant
debate age vs ideas, of trying to do interesting things and still
trying to do the same things that everyone wants. We've all forged
different compromises – I still have my beard and go on tour, but
I've also entered the world of home ownership and all of the shackles
that that puts on being a free spirit- but it seems like we're all
at least aware of the issue and fighting to keep some of what made us
unique.
Speaking of what makes me unique, Friday dawned and it was time for me
to drive up the coast to the glories of Long Island. I couldn't
believe it. I was finally going to see the inside of Nassau
Coliseum.
Nassau Coliseum has been my jinxed venue. Two of my four Grateful
Dead shutouts occurred there. In fact I had never actually made
inside the venue. I half expected my ticket to burn up in my hand
before making it through the gate. If it hadn't rained that night,
it very well might have.
Despite getting into the show, I think my curse continued. People who
were there in February got the Destiny Unbound that should have been
rightfully mine. Me? I got the Dude of Life. Not quite the same.
Part of the problem for me was that this show came right after It.
Little musical digressions would happen for a second. If this were
still Summer Tour, these moments would lead to interesting
five minute jams or so. On this run they happened, were played once
or twice, and then were ignored for the main theme of the song. I
found that somewhat frustrating as I like the meanderings, but it also
gave the jams a sense of being packed. Twenty minutes of jamming
were played in twelve; that's an interesting effect.
One of the great things about going on tour is that you occasionally
see many amazing things on the road. Since there weren't many cheap
hotels in the New York City area, George and Elayne had the idea of
staying at a hotel in Allentown, PA. The drive there after the show
might not have been the easiest [1], nor was the hotel the best, but
it was an affordable place to sleep. Not only did it have that going
for it, but it was right across the Delaware from Phillipsburg, NJ.
There I got to see a sign for the most unfortunately named lawyer
ever. He might be dumb, but at least he's honest.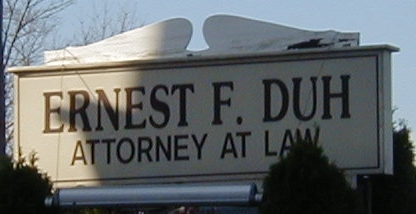 After Nassau the weather took a turn for the worse. I was following
the forecasts online and every single day they made them a little bit
more unpleasant. Instead of a sunny day around 60, we ended up with
a bitter evening in the lot. Unfortunately traffic around the venue
was so bad that getting there early was the only way of being sure not
to miss the opener. Between the Vet, the two Wachovia named hockey
arenas [2], Lincoln Field [3], and the as yet unbranded new Phillies
park, there were a lot of parking lots. This created the best game
ever: "Where's Shakedown."
Lonely vendors dragged their coolers around as everyone wandered from
lot to lot, only to be told that all of the people in that lot
wandered to a different place. Surely there would be a Shakedown
outside of the next building. It was the Phish equivalent of a Beckett
play.
This show gets panned a lot. I understand why it does. I was one
of the people mocking it when it was happening. On disc though, it
holds up a lot better than I thought it did. The first set especially
was really good and I like the Twist jam a lot. Sure they encored
with Friday and yes they even botched the song for good measure, but
there's a lot of good stuff in this show, a lot more than you might
think.
Unfortunately, the journey to Philadelphia had a lasting consequence.
I, along with pretty much the entire population of the tour, got an
evil tour crud. For me that really took its toll in Albany.
The Albany show is a good one despite what you might have heard me say
over the years. The Stash and Thunderhead are exceptional. I might
find the Wolfman's to be overrated, but I understand why the funk
lovers don't. Unfortunately, I was dead. By the second set, I was
passing out. Not even the incredible You Enjoy Myself could protect
me from the evil of this flu. It looked like the entire show would
be lost.
Trey then announced a guest performer. Jeff Holdsworth was coming
out to play. For those who don't know, Jeff was an original member
of Phish. He left the band sometime in 1985 or so. Finally we were
going to see Phish the way that they could have been.
Musically, well let's just say that there's a reason why Jeff didn't
engage in a wonderful solo career over the last two decades. It
didn't matter at all. All of my tiredness was forgotten as I tried
to transfer myself into an alternate universe, one where Jeff stayed
in the band and I had been seeing him since the 80s. When that
got old, I tried to picture what it must be like for him.
I figured that that was both the best and the worst night of his
life. On one hand he was playing to nearly 20,000 people, all of
whom were cheering his every move. On the other this is the life
that he rejected. His college band had somehow become amazingly
popular and he had given that up. Unlike me, unlike Steve, he had
chosen the road more travelled. What makes it so some people can
give up the insane choices and go back for the more normal life and
others continue to have adventures for all their days? Maybe
this segment of the show can be painful to listen to (especially the
horrid reading of Long Cool Woman in a Black Dress), but
philosophically it might have been the most interesting segment of
Phish I have ever seen.
Three shows down, one to go. In many ways this run resembled a New
Years show. Four shows were to be played, with all of the focus on
the final one. The shows were all in the northeast. The weather was
cold. All of this made the memories of driving to New England in
late December in the 90s flow back. It seemed like every other town
on I-95 had some story affiliated with it. The last time I was in
the Fleet Center, I was in the middle of tens of thousands of
balloons. Would something like that happen this time?
Musically this show is my favorite of the four. The first set was the
lesser of the two but it was anchored with an incredible Piper that
reminded me of the Disco Biscuits. As the set ending Down With
Disease ended, all of the video screens around the venue came to life.
An early practice of the band playing Fluffhead was being shown.
This movie was just incredible. Almost all of the wackiness in
Phish's career was shown. From the secret language to the Giant
Hotdog to the Glide gliders to the chess game, there was a sense of
just how much Phish had done over the years. The most touching thing
was when they highlighted the Shoreline hiatus starting YEM Vocal Jam.
As that faded out, the screen went blank for a moment as though the
movie was over. Well I thought Phish was over a few times there too,
but there's the snowfall from 12/31/02 on the screen and everything is
back to normal. Kevin, release this sucker ASAP, please!
The video was enough for me in terms of wackiness. I predicted to
Elayne that the second set would be normal setlist wise, even boring.
I might have been seeing this band for fifteen of their twenty years
of playing, but I still can't predict what they'll do. While there
weren't any bustouts in the second set, the first half hour of the set
was some of the most surprising song choices Phish have ever played.
A Weekapaug with no Mike's [4] was bizarre enough, as this had never
been done before [5] but then we got Tweezer Reprise to finish off
the previous show's Tweezer. What comes after Tweezer Reprise after
all? Frankenstein > Kung > Frankenstein was the last thing I was
expecting. If anyone tells you they predicted that for that matter,
they're completely lying.
The set calmed down a little (well if you can call The Wedge and
Cities normal song choices) before the perfect way of ending the set.
After an Maze that ranks with 12/31/94 and this summer's Gorge show as
the best one I've ever seen, the set closed appropriately with Waste.
"Come waste your time with me," Trey sang. I for one will be glad
to answer the call for another twenty years. Who's with me?
[1] At least I didn't make the mistake George and Elayne did. I went
a direct, albeit annoying, route that took me through downtown
Manhattan and past Madison Square Garden. They assumed, logically
enough, that if they took I-278, eventually it would intersect with
I-78. That assumption is wrong and there no real explanation for
this numbering.
[2] The current hockey/basketball venue was the first example of
something that I sure hope doesn't become the trend. It was the
Wachovia Center Sponsored by Comcast. Just what the world needs – dual corporate naming of venues.
[3] Overheard in the lot, "All of these places are named after banks.
You'd think that there would be a cash machine out here somewhere."
[4] Well other than Trey singing a line over Tweezer Reprise.
[5] Cincinnatti's Weekapaug at least was ending the Mike's from the
first night of the run. This was ending no Mike's, unless I finally
was getting the missing Weekapaug from 5/27/94.
David Steinberg got his Masters Degree in mathematics from New
Mexico State University in 1994. He first discovered the power of live
music at the Capitol Centre in 1988 and never has been the same. His
Phish stats website is at www.ihoz.com/PhishStats.html
He is the stats section editor for
The Phish Companion and is on the board of directors for
the Netspace Foundation. You can read more of his thoughts at
http://www.livejournal.com/users/thezzyzx.