One Sweet Dream Came True Today
"You want to know something funny? My wife analyzed this trade
better than I did at the time it was made. I was like an eight-year
old, calling up people saying, 'Hey, did you hear? We got Vida Blue!'
My wife kept saying, 'I don't know, Bill; I've heard you point out so
many times how people get burnt on trades by trading off prospects to
get some old guy.' 'But honey, its VIDA BLUE,' I protested.'
-Bill James 1983 Baseball Abstract
I had finally given up. I was looking at New Year's options and for
the first time in over a decade, I had decided to stay home. Well not
home home – the plan was to either see Rockin' Teenage Combo or to go
to a party – but the idea of staying in town on 12/31 was both
intriguing and kind of depressing. What could I do though? There was
no show that interested me enough to travel. San Francisco had
some possibilities, but I wasn't going to see another Peak Experience
NYE, and I just couldn't rationalize spending $80 to see Galactic and
Karl Denson when they play Seattle all the time. Yeah I heard that
Page was doing some sort of thing, but I was swearing off side
projects for a while as Oysterhead did little for me. Staying at
home it was to be.
Of course then Phish had to release those MP3's. Once I decided that
I really liked them, all I had to do was convince myself that seeing
Page at the Roseland was kind of like seeing Phish at MSG. I figured
that everyone else would be going to these shows too of course, so I
got some friends to wake up early and help us all get tickets. At 9
AM PST on a Sunday, tickets went on sale. By 9:01, I had my four. It
turns out that the show never did sell out. It worked out well
though. Not only would I be seeing Page, but I'd be going with the
biggest Page lover I know. Surely Elayne 'Well there was a Squirming
Coil and a Jesus Left Chicago, so it was a great show' Parrish would
cause me to enjoy it through osmosis, if nothing else.
Everything that went wrong on this trip I blame on my mother. Why?
Well other than the fact that returning back the guilt she gives me is
always a good thing, it was her own travel plans that required me to
leave so early. 'How come you never come to Baltimore? Oh, I'm going
to be out of town after the 26th and you can't stay at our house after
we leave.' Oh thanks Mom. The travel plans ended up being kind of
weird. I flew into BWI on the 26th, then slowly made my way to New
York.
To go forward, I had to go backwards though. My first day of my trip
was spent in our nation's capitol. The highlight of the day – outside
of seeing Amanda and Ellen of course – was getting the Terrorist
Floatie Pen a mere mile from the Pentagon. At a glance, it looked
like any other floatie pen. I picked it up cause I have a friend who
collects them. The background though was the Capitol building. The
floatie thing was an airplane. What fun. Reenact your our little
terrorist adventures for only $3. RRRRRRRRRRRRRRRRRM KABLOOEY
My trip started out like one of those old toy cars. First you pulled
me back, then you let go, and vrooom, I went forward. The retreat to
DC was followed by the journey up past Baltimore all the way to, well,
Philadelphia. On this drive, I discovered that I am officially old.
Why? The last dozen times I drove on I-95 I cheated. If you get
off in the last exit of Maryland or Delaware, you can easily get right
back on the Interstate on the other side of the state line and save
yourself the $2 toll. This time though, I decided that it was better
to just stay on the road and pay the toll. It might be a vague sign
of maturity, but it is a sign.
Philadelphia was nice. Sure half of the buildings were burned out,
the drivers were all insane, and I got to see an inner city drug deal,
but that's the east coast for you. I also got to hang out with the
legendary former Jambands writer Sister Mary Carmen. Her and my
college friend Greg drove up to meet one time Phunky Bitch Grand
Poobah Jen Marshall to play Harry Potter trivia. Why am I mentioning
this? Cause I went undefeated! W00T! Harry Potter trivia master! 2
and 0! Don't challenge me to Harry Potter, cause I will school you!
All Harry Potter fans bow down before the legend that is I.
After the Ticker Tape parade held in my honor, I left Philly to escape
my autograph seekers. I had a meeting with fate ahead of me. For I
was heading to New Jersey and had two days to kill there. I was
visiting someone who knew a secret, a secret she would soon
indoctrinate me in. This can only mean one thing. I saw the Rhombus.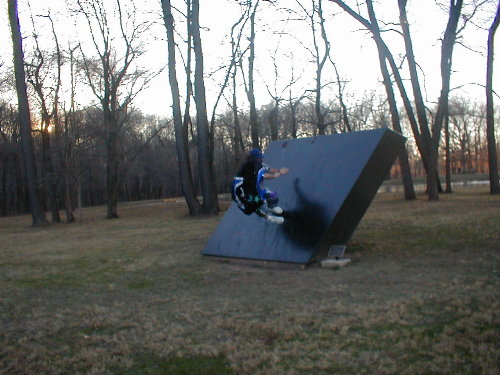 Maybe I could detail the battle that took there – sketchy details are
available on Ihoz.com. I'm
not sure though that the world is quite ready to know how close we
came to it all ending. All we had were the four of us, facing off
against a Super Villain team of incredible power. Our hearts were
true though, and we were able to overcome the forces of evil.
Perhaps that's all that needs to be said. The world still spins,
people still love, do I really need to make everyone understand just
how much of a debt that they owe to Starman and the New Jersey Trio?
An extremely attentive reader might have begun to suspect that this
column has ventured off into the land of silliness. There's a reason
for that. Up until New Years Eve itself, very little happened on my
trip. I'm used to going on tour and driving 300 miles every day.
Taking four days to drive from Washington to New York irritated every
instinct that I had. Yeah I saw some wonderful people. I got to
explore Ann's apartment with the secret passage [1] located right near the
Mafia run Italian restaurant [2]. There was a rhombus visit. There
were two parties. The short travel distances were just really getting
to me. By the time I hit Manhattan, I was wondering if this trip was
going to happen, and the grand hotel disaster hadn't even happened
yet.
May I suggest a good rule to follow if you're a hotel. It's a simple
one. If you get people to pay for your hotel in advance, you better
make sure that you actually have a room for them. Most guests don't
like having to walk seven blocks in sub-freezing weather to get to
their new room, let alone having to spend the next hour fighting to
get their entire party in the same hotel. The hotel we were moved to
claimed to charge $1 a minute to use the phone. I called up the old
place, only to get the following voice mail options, 'For furniture
press 1, for Japanese customers press 2, for our showroom locations
press 3.' A desperation press of 0, confirmed that it was the right
number. They just didn't want to admit it. Fortunately, I got the
other room moved over to our hotel and it was finally time to relax
and get ready for the show.
New York was taking its first post terrorism New Year's Eve very
seriously. You had to go through a checkpoint just to walk somewhere
near Times Square. The officers were unamused by my Starman outfit
('We're going to search you last'), but most of them were friendly at
least. Perhaps due to the outer search, perhaps due to the fact that
the show never did sell out, the Roseland didn't have their usual
hyperactive security measures. It took barely ten minutes
to get in once the doors opened. That time was spent having fun with
the whole Vida Blue concept. 'I'm an old schooler,' Henry told me.
'I was at their first show.'
Kid Koala and Bullfrog opened. They were the perfect example why
opening bands are a dumb idea. Sure the Kid had moments, such as
playing some Sesame Street albums, but they just went on and on.
Since the average Phish fan isn't a huge hip hop fan, there started to
be catcalls during their very long set. Some people dug it, but there
started to be cries of 'Page' during the end of their set. I started
to be reminded of NYE 90/91 when Chucklehead played forever, depriving
Phish of an encore. Most of the set was spent looking up at the
balcony at Trey. I wasn't expecting him to be there, but that
couldn't be a bad omen.
After one last ten minute period of spinning, the set was struck, and
Vida Blue got ready to come on. Except for the few who had attended
the night before, no one really knew what to expect. The best way to
describe the band is that they're the anti-Oysterhead. They went for
mellow where Oysterhead went for intense. Lyrically, some polishing
could be done, but they at least were decent – especially in the song
I'm calling Vida Blue. The structure of the songs was interesting.
Far from verse and chorus structure, the songs were more in the style
of Blood on the Tracks era Dylan, only without even the one repeated
line ('Tangled up in Blue,' ''Come in,' she said, 'I'll give you
shelter from the storm',' 'the Jack of Hearts', etc.) at the end of
each verse. The jamming style was, as expected, similar to that of
late Phish 2001's. At midnight, when the balloons came down and Page
went into Instant Karma, there was no other show I would have rather
been at. Sure it wasn't Phish. There were enough moments of
enjoyment to make the trip worthwhile. 'If they could mix up their
material, ' I announced, 'I'd see a four show run.'
The set ended, Page thanked us, and then it happened. You know, over
the last year, I've managed to develop a reputation of being a jaded
old man. How is it then, that the mere act of putting two speakers on
the stage could cause me to start screaming incoherently?
'PLEASEPLEASEPLEASEPLEASEPLEASE!!!! DON'T BE A JOKE! DON'T BE A
JOKE! OHMYOHMY! DON'T BE A JOKE!' Oteil came out and started an
America the Beautiful dedicated to New York. Russell came out and
started playing on it. And then out came Page… and Mike… and
Trey. YEEEEEEEEEEEEEES!!!! They took their usual spots on stage and
for a moment – providing you didn't look back to the drummer or
extreme stage left – you could pretend. The hell that was 2001 is
over. 2002 was brought into the world on pure hope. As much as the
actual playing – and the Light Up or Leave Me Alone was hot – the
timing of this move, made this one of the best New Year's Eve ever.
For days later I was still jumping up and down, excited over what I
had seen and what it could mean for the future. For that promise,
every penny I spent going to these shows was a penny very well spent.
'Little darling
The smiles returning to the faces
Little darling
I seems like years since it's been here
..and I say
It's all right '
-George Harrison
[1] The stairs between the upstairs and the downstairs can only be
accessed by going through the bathroom. In addition to that dubious
design decision, they had a window shade upstairs. Raising the blinds
did not reveal the expected window. Rather there was a crawl space
behind it.
[2] They only accept cash. All of the windows are completely covered
so you can't look in and see who is eating there. It was used as a
location in a recent Soprano's episode.
David Steinberg got his Masters Degree in mathematics from New
Mexico State University in 1994. He first discovered the power of live
music at the Capitol Centre in 1988 and never has been the same. His
Phish stats website is at www.ihoz.com/PhishStats.html
and he was the stats section editor for The Phish Companion.